Tribal Data LP
Label: unknown To The Unknown
Format: Digital
Release date: 13/1/17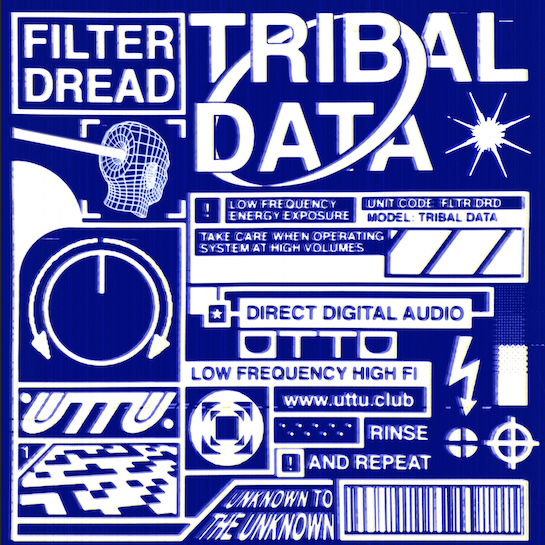 Reviews
Bleep
Sublime skunk heavy dub vibez from Filter Dread for Unknown To The Unknown.
We have been waiting for a follow-up to match the technicolour rave of his 2013 Space Loops album for No Corner since forever, so thankfully this hook up with DJ Haus's UTTU has come about. In many ways it's the perfect home for his mashed-up freestyling genre-smashing liquid grime sound. Though hardly a surprising result that these two would hook up, both Filter and UTTU are known for their cross-pollination of sounds 'n' styles from stoned junglist icebergs to steppin' 'ardkore transitions, and for Tribal Data they hit the peak of a sound they have both been moving in the direction of.
Tribal Data is like an imagining the last twenty years of underground UK club music (garage, grime, dubstep, jungle) thrown into a blender and then shot through a needle into the grooves of the fattest bass resonating dubplate around. Mixing a splash of Wiley Eski beat here, dropping a techstep bassline there, a drizzle of Landstrumm techno on the edge and topping it off with a dash of Zomby UKG reverb and you have one of the most well rounded techno records around.
By pulling influence from so many sounds and styles Filter Dread has crafted a record that is strikingly original yet packed to the brim with tasty segments from the very best sections of his, ours and most likely your record collections.

Resident Advisor
Filter Dread makes a ton of music. "I like giving out free stuff from time to time—I've got a lot of tracks and it's nice to get them out there," Leo Johnson-Davies told Thump in 2015. "I'm always working on new stuff." With such a constant output, the music isn't always incredible, but it is always interesting. The Londoner treats no genre or production approach as sacred; for him, UK hardcore (and its ever-multiplying tangents) is as much an inspiration as fodder for his digital meat grinder. But there's nothing high-minded about his music, which is a crucial part of its appeal. Like he once explained to Liminal Sounds, "Essentially I'm trying to get back to those early dubstep and warehouse raves… People like Bizzy-B who were making music for themselves and not worrying about perfection but more about vibe and texture."

Suffice it to say that Johnson-Davies is an ideal match for Unknown To The Unknown. In 2015, DJ Haus's lovingly slapdash label released the free Tribal Realm EP, whose percolating rave transmissions balanced club-friendly structure with manic energy. It was also less beholden to the grime experimentation that many Filter Dread records, including last year's Data Bass EP, are steeped in. For his second UTTU release, Johnson-Davies revisits the vivid world established on Tribal Realm, but nothing is quite the same. The junglist low-end has been shattered, the rolicking breaks crushed and smeared, the wide-eyed FX ran through cold digital processes. It sounds unusually meticulous for Filter Dread, and yet it's brimming with spontaneity.

Tribal Data seems built on such contradictions. It's an album that plays like a mixtape, a contemporary expression of classic ideas, full of bleepy techno that wants to move like garage. The spartan beat of "Reckless" is harsh and decidedly un-swung, but the intermittent synth blasts and sudden changes give it a kind of stuttered sway. Likewise, "Sea Spray"'s stilted bounce becomes groovy when a dopey bassline and alien FX fill the gaps. "Kicking" sounds like it could have been an early '80s dance hit, if not for the immense sub-frequencies wub-wubbing below. The tension created by Tribal Data's complementary contrasts feels rich with possibilities.

Disjointed and carefully arranged rhythm tracks like "Expansion" and "Pinball" share commonalities with Filter Dread's peers—Logos, Visionist, Acre, et al—insomuch as they find similarly strange corners of UK hardcore to turn to. But Tribal Data goes further into the unknown than, say, Mumdance & Logos's Proto or Acre's Better Strangers, and steers away from their cavernous, foreboding milieus. In fact, it's worth noting just how little reverb Johnson-Davies uses here, preferring to deliver his punchy, often radical sound design with unfettered precision. Whether it's an aesthetic choice, a purist's habit, the mark of an exacting producer or all of the above, such elemental differences make Tribal Data stand out.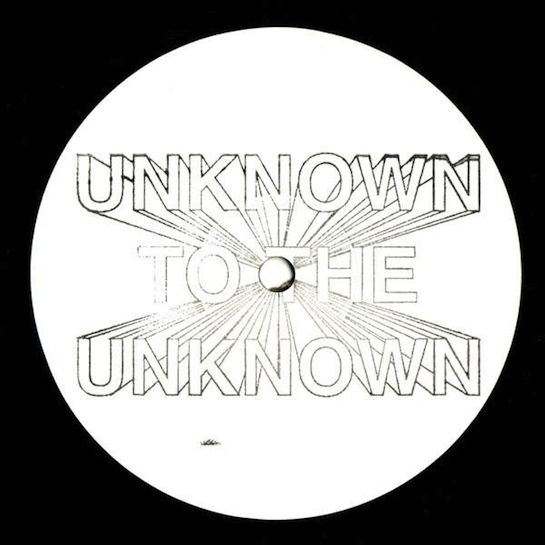 Boomkat
One year on from Tribal Realm, Filter Dread aims his 2nd volley of deconstructed jungle, garage and grime with an 'ardcore twyst on Unknown To The Unknown.
In Tribal Data he shatters the 'nuum timeline to a mosaic of interrelated style 'n pattern, stepping from the 8-bit 2-step of Cruiser thru the spasmodic jungletekno of Expansion to a gully '03 grime flex on Kicking and colliding with South London bass in Moon Beams.
But the best is reserved to the other end of the album, with the pinging dynamics of Pinball a big highlight, and Sea Spray knocking us sideways into cubist sublow, whilst Snow Click meshes original Eski templates with cold ambient strokes and Tribal Data dips to a sort of neuro-D&B-meets-8-bar clash.