23rd June 2014
MIDI Space EP
Label: Ramp Recordings
Format: Vinyl and Digital
Release date: 23/6/14
RAMP welcome Birmingham-based Filter Dread into their warm bosom. Let's hand you over to the man himself for introductions:
"In 2000, I started going to raves in Cambridge, and my dad got me a copy of cubasis. After a steady diet of ambient dub and drum and bass I moved to London and discovered Pirate Radio. I completely immersed myself in the music making process and dedicated my time to a sound that I was consistently happy with. A lot of my inspiration comes from early rave production and the quick and unapologetic techniques that were used to make tracks. Short sampling space, limited save functions and other restrictions lead to music that I find to be very pure, energetic and creative."
With a digital-only single on Visionist's Lost Codes, and the FACT-championed 'Space Loops' cassette under his belt, RAMP would like you to acquaint your with the kaleidoscopic Grime of the 'MIDI Space' EP.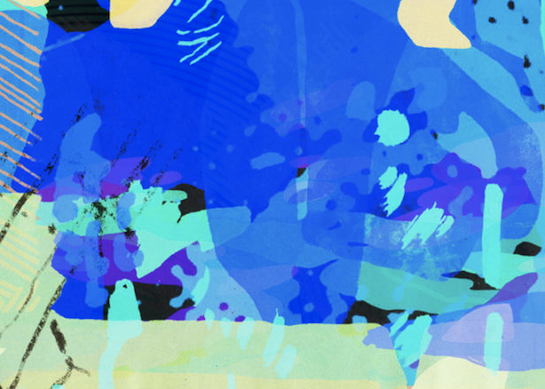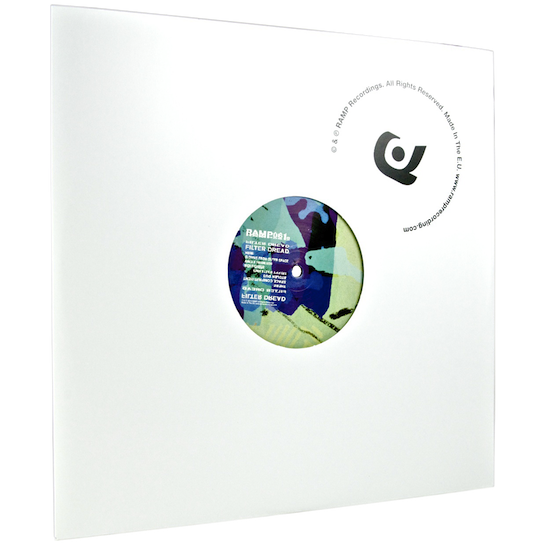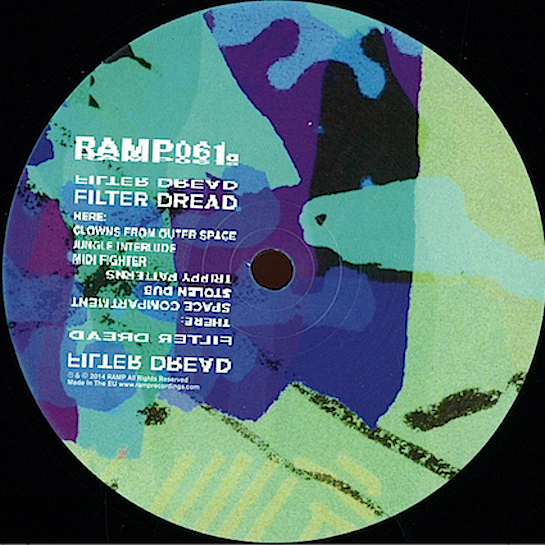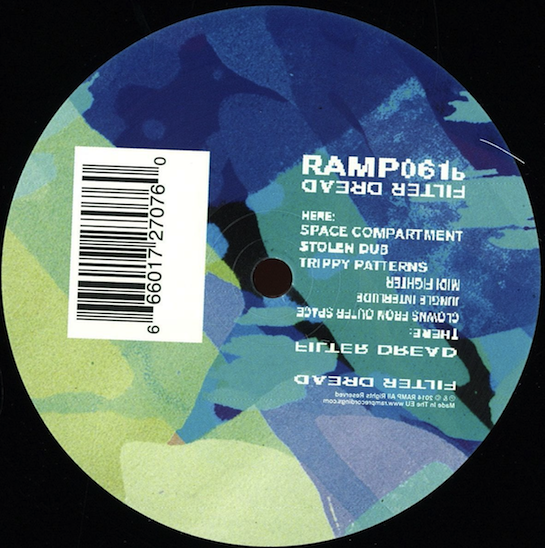 Reviews
DJ Mag
Considering that it's taken just one cassette and a digital-only single release to spell out the words Filter Dread in reflected sonar pings on a lot of people's radars, his 'MIDI Space' release for RAMP needed to come hard with something different. And it really does. All that crumpled sounding equipment and Dread's unapologetic compression approach has fused an EP that applies the rowdiness of peak-time drum & bass to slower tempos perfectly. Recognisably brutal.
8/10
Boomkat
One of new wave Grime's freakiest operators follows up digital releases for Visionist's Lost Codes label and a tape on No Corner with this cracking vinyl debut for Ramp. Hailing from Birmingham and with a healthy experience of UK rave styles ranging from DIY free parties thru grime and old skool 'ardcore, Filter Dread distills all those elements in strange, misshapen forms that can't be tagged easily. He revels in the restrictions of archaic production methods, relishing, as he says: "the quick and unapologetic techniques that were used to make tracks. Short sampling space, limited save functions and other restrictions lead to music that I find to be very pure, energetic and creative." And so his six tracks here wildly veer at angles between sublow sino-grime, gutted cyberdub and aggy instrumental weapons with a clipped torque and direct drive unlike many others. TIPPED!
Resident Advisor
Filter Dread's finest achievement to date is Space Loops, a cassette mixtape for Bristol's No Corner label. It seemed to suggest that, as with another of last year's breakthrough acts, Galcher Lustwerk, the mixtape format was the best possible home for Leo Johnson-Davies' music. Partly this was a matter of pacing; Filter Dread tracks acquire a new intensity when assembled into a rapid-fire collage. But it was also one of depth. Inspired by the "quick and unapologetic" approach of early rave production, Johnson-Davies likes to hash out the barebones of an idea rather than getting bogged down in development and refinement. In a mixtape, where the joins between tracks are blurred, his rough-edged sketches can become components in a larger narrative.

It should come as no surprise, then, that Space Loops' followup EP retains something of that feeling. For one thing, there's a "Jungle Interlude," a brief breakdown-like number that is begging to be slotted into a larger whole. More broadly, where much Boxed-affiliated instrumental grime strives for new heights of structural complexity, Filter Dread remains happy to keep things simple. Fans of UK rave history will appreciate its nods to several different eras, most audibly grime (particularly in "Stolen Dub"'s jagged percussion) and early '90s hardcore as it morphed into jungle (see the loping, syncopated groove of "Space Compartment").

Crucially, though, Johnson-Davies' music feels referential but never reverential. The title of "Clowns From Outer Space" hints at its balancing of the alien and the downright silly. "MIDI Fighter" captures it best, its oafish bassline offset with otherworldly rave chords for what is the record's rowdy apogee. And of course, you can always trust Filter Dread to throw in an outlier: he closes with "Trippy Patterns," a queasy techno workout that likely gets its name from the vivid delay effects strafing its surface.

Angus Finlayson
Bleep
After his grandiose cassette release Space Loops on No Corner in 2013, Birmingham-based producer Filter Dread resurfaces with his debut on Ramp. The glitchy aesthetic of the MIDI Space EP is a nod to the early technology used to produce rave tracks. With limited save functions and sampling space, the tracks were naturally restrained in terms of length: Filter Dread draws on this with his compact versions of dub-infused grime. Funnily pinging sound effects add a playfulness to 'Clowns From Outer Space' while sharp hi-hats cut through 'Stolen Dub' and flashy reverb fills up the spaces in between.
Juno Plus
As the amount of critical attention placed on the "new wave of grime" increases, so does the risk of lumping lots of disparate artists under what is an increasingly impractical banner. Filter Dread is one such producer, often mentioned alongside grime experimentalists Logos and Visionist due to a predilection for weightless sounds, and a release on the latter's Lost Codes label. However, grime feels like a very small component of the music he makes; the producer has stated that his formative years were spent going to warehouse raves in Cambridge, and Space Loops in particular was as potent and nostalgic an exploration of jungle and rave as the deconstructions of Lee Gamble and Leyland Kirby.
MIDI Space sees Filter Dread continue these deconstructions, but the EP's name also highlights the "short sampling space" and "limited save functions" of early the rave production techniques used by the producer outlined in the record's press release. Spaciousness has always been central to Filter Dread's music, but the title further illuminates the imagined space his music seems to take place in, a zone defined by obsolete computer technology. In a sense, MIDI Space feels like Filter Dread's own musical version of sandbox construction video game Minecraft, where he refashions the aesthetic of these genres into crude building blocks with which he makes his own rudimentary, yet fascinating musical structures.
"Clowns From Outer Space" for example is an absurd combination of cheap spring sound effects, overwhelming square waves and cheap snares, while the short "Jungle Interlude" is exactly that, a mere suggestion of the genre whose rhythmic structure is played out by cheap drum samples. "MIDI Fighter" meanwhile hides '90s beat 'em up video game samples in its ambient chords and primitive breakbeats. While Space Loops was vapourous in feel, MIDI Space is appropriately blocky; the weightless chords of "Space Compartment" are tethered down by stubborn drums, while the aggressive snare rolls of "Stolen Dub" stutter and fold in on themselves in a way that's almost cubist in design.
The effervescent neon synths of "Trippy Patterns" provides the EP's most gentle moment, but it's still a track defined by the angular edges of its basic drums. MIDI Space may not be elegant in the way that the music of Logos or Visionist is, but there seems to be a knowing sense of humour shining through that makes it so intriguing to listen to. While it hasn't been immediately obvious in his previous releases, MIDI Space has more in common with some of the more enjoyably odd moments in the Actress discography; if Filter Dread's career continues along a similar trajectory, his music can only get more strange – and rewarding with it.
Scott Wilson