Format LP
Label: Red For Colour Blind
Format: C40 Cassette and Digital
Release date: 5/7/15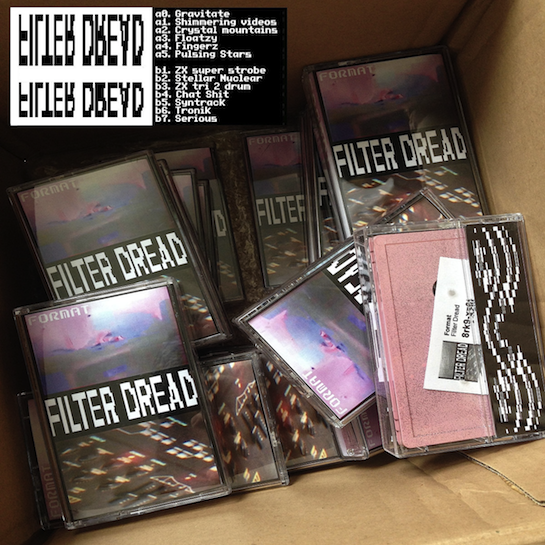 RWD-FWD Review

"RwdFwd favourite Filter Dread returns to the cassette after a superb outing on Pan with Acre. The 'Red For Colour Blind' label coaxes 14 tracks from the elusive producer, further exploring the spaces and textures that made his cassette for NoCorner a couple of years back so engrossing. The idiosyncrasies that defined his earlier works are still present – 'Gravitate' for example makes full use of fragmented breaks and sci-fi synthesis creating a playful and intriguingly unsettling atmosphere, setting the scene for the rest of the tape. Framed by the shorter and more experimental cuts are some outright bangers the breakbeat choppage of 'Virtual stress' and the standout track 'ZX Super Strobe' (which sounds like a UK Funky track, laced with amens, ragged through a bitcrusher) are ones that we have found ourselves revisiting since the parcel of cassettes touched down. Moving through the second side – hints of vintage Filter Dread show themselves, the tumbling arrangement of 'ZX Tri 2 Drum' while the almost unhinged snare rushes and reece bass of 'Chat Shit' remind us just why we dig this producer's sound so much. Format shows how Filter Dread has progressed as an artist, developing what were once fragmented ideas into full tracks while holding onto the shorter pieces, ideally suited to the cassette format – 'Format' is best listened to in it's entirety, half scrapbook and half fully formed, left of centre bangers – dropping the listener headfirst into the mind of the Filter Dread.
Highly unique, highly mad… Highly recommended."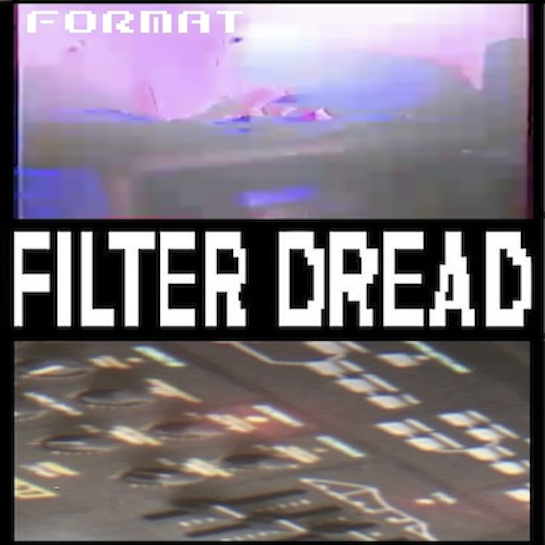 LABEL INTERVIEW WITH FILTER DREAD

Could you tell us more about what kind of music shaped your taste in muisc and ultimately your very own sound?
FD : My dad used to take me to skate rinks that were out of town when I was really young. You could hear loads of early rave music there. We used to buy the rave compilations and listen to them in the car to get buzzed up to skate. I was also listening to loads of hip hop, because my mates' older brothers had it. Things like Eazy-E, Wu-Tang Clan, Cypress Hill, Onyx, etc. Then I started getting into dub and drum and bass in about 2002. I started messing about with music sequencers. I moved to London in 2006 to go to Uni. That was the time when dubstep was kicking off. I lived next door to Corsica studios in Elephant and Castle. There were a lot of sick dubstep raves. Rinse FM was on all the time. All this inspired my sound.


So you certainly went to lot of rave parties when you were growing up? It sounds like you've cerainly enjoyed few jungle parties. I heard and read that illegal rave parties (free parties) started to grow again in UK. Did you notice something like that happening again in UK? And if so, what's your view on this.
FD : Yeah, I think they've always existed. I used to go to them in Cambridge and that's where I got some of my biggest influences from. Not neccesarily from the music, a lot of which was jungle, Gabba and techno, but more from living life generally and experiencing rave culture.


You live in Birmingham nowadays. Why did you move there? Do you follow the local sound? Do you have some favourite producers down there?
FD : My wife is from here originally, so we come here often. We decided to move here, because it is a fun place. I honestly don't follow the local sound much. I think Arctic is from here originally and he's sick.


I think that the most significant release for you was Hyper Lost. It was released under gradualy more and more popular Visionist's own label Lost Codes and so many people could discover your sound. How did this cooperation happened?
FD : I met Visionist at London South Bank University. We worked together on some stuff and stayed in touch. I was listening to a lot of grime at the time and what I was making was being inspired by that sound. I sent the tracks to Visionist and he signed them to his label.


Your music is in fact very complicated. It's certainly not straight forward banger. You take some interesting elements from such energetic genres like grime, dubstep or jungle and deconstruct their usual pattern, so that it creates a very unusual and original sound. I think that it's a similar approach that other producers in UK started to do as well. Do you feel like you're creating a whole new rave scene?
FD : I think a scene has developed, which is cool because people can bounce ideas off each other. To be honest though I'm more focused on the process of the music creation, rather than the scene that it creates.
My favourite release from you is Space Loops. I really like that it is in a cassette format. How do you feel about tapes? Is there something about it that you find especially appealing?
FD : Tapes are cool. They've got nostalgia attached to them and it can be fun to listen them. It's a different experience to that of digital. I listened to all the No Corner tapes and they're all really enjoyable.


Do you think tapes could be a mainstream-thing again? I mean apart from it being nice and nostalgic thing, it's not too expensive format for publishing music - sort of a "vinyl for poor people".
FD : I hope that tapes become more popular in the mainstream, as I think they are creative as a medium and can be used in a different ways. For example I make sample packs on them to get that tape sound before recording back into the computer. Mixing with them would be interesting. People do it. I don't think tapes are going to be any less popular than CDs in the future.


Who is your favourite producer right now and why?
FD : Ovuca. It's good music to listen to when your half asleep