21st September 2015
Tribal Realm EP (Unknown To The Unknown)
Fill up on mangled jungle with that spaced-out Filter Dread twist.
The UK producer has returned to Unknown To The Unknown with another essential collection of bizarro 'nuum renderings – and some typically strong artwork from the label.
The five-track EP is available as a free download from UTTU – check the samples and grab it here.
Get more from the unhinged world of Filter Dread with his ace 'Sunbeams' download from UTTU, the Midi Space EP on Ramp and his massive Christmas Day sample pack freebie.
( Fact Mag )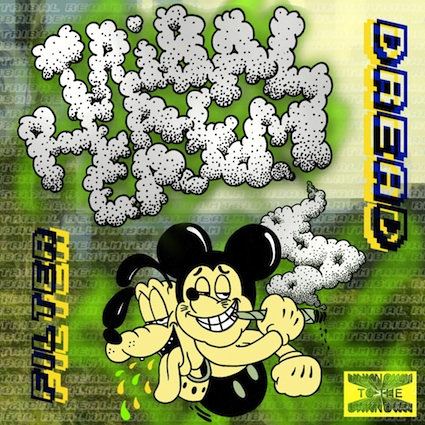 Press
Interview with THUMP about the Tribal Realm EP
THUMP: You've just dropped a 6 track album on UTTU for free. Which is kind of you. Do you like giving music away for free?
Filter Dread: It's all good. I like giving out free stuff from time to time — I've got a lot of tracks and it's nice to get them out there. I'm always working on new stuff.
What equipment did you make the EP on? It's got quite a unique sound to it.
I really like physical samplers and effects units and use these on most of my tracks. On this EP I used a little Korg sampler for a lot of the sounds. I also have a few other bits of kit as well as a Yamaha effects unit from the late 80s which comes in useful, especially on old school rave tracks, which form the main inspiration for this EP.
You've also released on RAMP & PAN. Those are both pretty cool labels. Is there any imprint you're drying to release on? Who'd be the dream label to hook up with?
If I feel a connection with the music and the overall concept and look of the label then I am fully up for it. A label that focuses on interesting electronic music is always appealing to me.
Can you tell us about each track on the Tribal Realm EP?
"Loop Hole"
Making "Loop Hole" was like playing a confusing video game. I started with the components of the track and got lost in the drum pattern. I almost didn't find my way back out again and was going to scrap the file. Luckily I worked it out and quickly dropped a bass line over the beats before making an escape.
"Data Crunch"
This was inspired by old jungle-techno dons like Bizzy B and Andy C who use to create crazy tracks in the early rave days. I wanted to take it up a notch by layering atmospheres within the drum hits and this resulted in some strange subliminal messages that appear within the breaks. I also wanted to put as much information within the track as possible, whilst maintaining a minimal number of components.
"Front Crew"
This was an experiment in jungle/D&B programming. I also thought it would be fun to play around with some sinister drum rolls. The additional ambient sounds and effects are from old rave tape packs that I had lying around.
"Space Beams"
This track explores the techy basslines that were popular in D&B before the millennium. A lot of my tracks are inspired by old pirate radio mixes, one of which was that of Agent K on Rude FM in 97. The whole set is filled with warping square synths. This track was made at an earlier time to the others and is basically the evil cousin of "Sun Beams", a track that came out on UTTU earlier in the year.
"Tribal Realm"
This was an experiment with a percussion break that I had. I wanted to create an atmospheric dream scape that kept switching in emotion. This track has a lot of processing from a Roland sampler, which is basically the brain of my set-up.
Tribal Realm is out now on UTTU. Grab it here.
(Fact Mag)