Interference EP
Label: Pan X Codes
Format: Vinyl and Digital
Release date: 25/7/15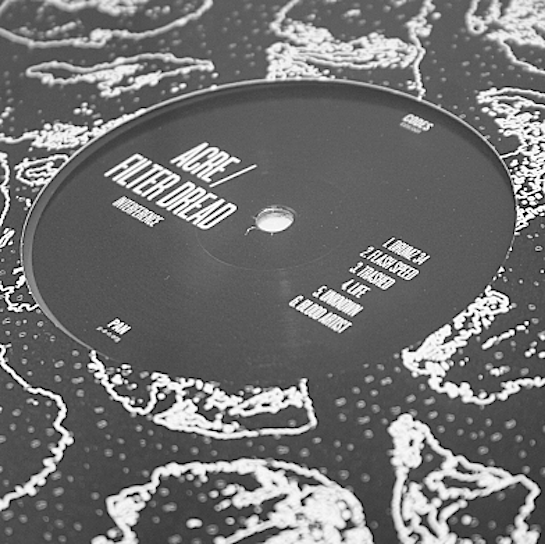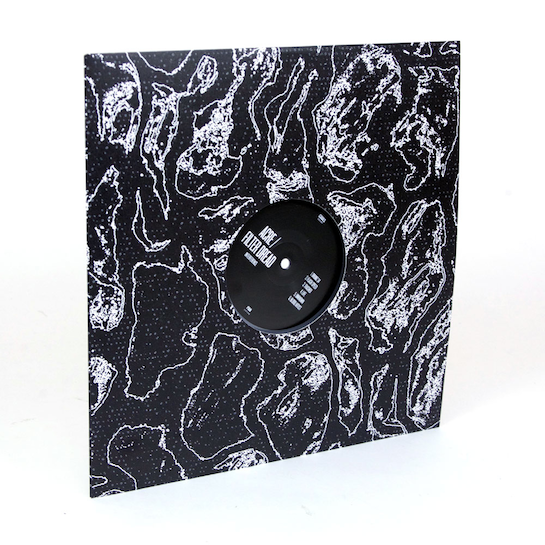 Interference is the first joint release from PAN and Visionist's Lost Codes, which is re-baptized here as PAN sublabel Codes.

Two of Visionist's key discoveries, Mancunian hybridist Acre and Cambridge's transplant Filter Dread both cut their teeth on UK soundsystem culture and have appeared on vital outlets like Tectonic and Ramp.
The pair's EP updates 8-bit grime, warehouse rave, and dark bass with hyper-modern sound design and bastard club rhythms. Rather than rely on mimicry, they contort familiar aesthetics, giving rise to the baroque, processional gloom of "Drumz 34" to "Flash Speed"'s bassbin elasticity and the modem drones of "Trashed" (for the steppers).
Reviews
Boomkat
Visionist resets his Lost Codes imprint as a new PAN sublabel, with a killer, collaborative grime/techno collage by Acre and Filter Dread. Marking the first time either producer has collaborated properly, they prove a vital pairing in equilibrium between industrial techno engines, body-scanning UK bass tones and gritty, diffuse urban-gothic atmosphere. Upfront, 'Drumz34' burrows in with viral 8-bit squiggle and squashed subs before 'Flash Speed' arches up a skeletal, mutant 8-bar onslaught and 'Trashed' bruks out the toms on a swooping halfstep techno flex. Down below, they come with a fiercely darkside droog raver called 'Life', whipping reversed drums, bass and mentasms with a very canny Wendy Carlos vibe, whilst 'Unknown' deals in guttural, monotone functions, and 'Blood Artist' pulls coarse lo-fi drums and electronics into sharp focus on an elegantly wasted sino-garage skip. Big twelve this.
Resident Advisor
Acre and Filter Dread are excellent choices for the relaunch of Visionist's Lost Codes label, which returns as a PAN imprint dubbed Codes. Both artists have appeared on the label before, and are among the most innovative producers linked to new instrumental grime, drawing on a range of styles with flair. This collaborative EP suppresses their weirder urges, however—with the exception of "Life," whose frantic tom-tom pattern clings tenuously to the grid, buffeted by hoover stabs and bits of robotic chatter.

Mostly, the pair meet on firmer grime-techno ground, though Interference's range is far from narrow. It can be expansive and tuneful, as on "Drumz 34," whose sour melody plays out over 8-bit burbles, or "Blood Artists," whose foggy toplines recall the blue sci-fi moods of Legowelt. Acre and Filter Dread can do grimey pyrotechnics, too, particularly on "Flash Speed," where B-movie melodies ride a cresting tsunami of bass pulses. If anything, the pair's main problem is an excess of ideas: Interference's six tracks tend to be dense, their smog of reverb and layered percussion filling every cranny of the mix. A track like "Trashed" has Acre's fingerprints all over its rolling technoid beat, but would have benefitted from a drier treatment. The work fares better when the producers use this overload to their advantage, as with the noxious psychedelia of "Unknown."
Bleep
PAN re-up Visionist's Lost Codes imprint for the newly minted grime techno rooted PAN x Codes stable. Manchester based genre-buster Acre and previous Lost Codes alumni Filter Dread team up for the debut release for this exciting collaborative label. Across 6 tracks, the pair deconstruct and reassemble a plethora of sounds rooted in UK underground club culture. Much like the output of Visionist's work and label, the tropes of bass and instrumental grime are at a forefront but they are blended with the off-centre compositional stylings of trailblazers like Lotic and Evian Christ. An exciting new vision for Visionist and PAN and a seriously impressive offering.
Juno Plus
The dark can make structural forms invisible, altering our sense of perception. Blackness sometimes also enables an atmosphere of creation. You don't see anything, but you can imagine everything. Individually Acre and Filter Dread have created sinister, fierce and frayed music caught between grime, techno, and UK garage and continue this path together on their first collaborative release, Interference. In case it is too dark in the club to see your hands in front of your face you will at least feel your body with these tracks.
The 12" is also the first release on the new label Codes, a collaboration from PAN boss Bill Kouligas and Visionist which essentially reboots the latter's Lost Codes. It makes perfect sense for Acre and Filter Dread to join forces here as both had solo releases on Lost Codes. They also both make music that is hard to pinpoint, working with brusque sounds which clearly carry characteristics of the machines that gave birth to them.
Acre and Filter Dread renounce digital, hyper clean sound design for a hands-on lo-fi approach which gives the drums and synth sounds a muffled feel reminiscent of old rave tapes and their over emphasis of the lows. This lends Interference a certain DIY attitude. "Flash Speed" develops brutal energy with its rich percussion, ramming kicks and echoing snares, whilst "Trashed" comes across as a ghostly hybrid of grime and electro with harsh claps and uncanny, haunting sounds. "Life" sends out frightening rave synthesizers and shrieking bells over a weird and shape-shifting beat.
The overall atmosphere is claustrophobic without ever giving a concrete feeling of losing ground. The rolling dancehall-meets-grime track "Unknown" transports on the contrary power to go mindlessly crazy and "Blood Artist" takes up speed with rhythms from UK garage and electro. Oppressive synthesizers build suspense that has hypnotic yet body-rattling effect. Interference sees Acre and Filter Dread present a strong collage of industrial bass-heavy music with the capacity to tear your face off. Music for a sinister rave. A dark place you can transcend confining borders and gain freedom – at least musically or emotionally.
Philipp Weichenrieder
Track 'Blood Artist' featured on Below The Radar 21 for Wire magazine