4th January 2015
Sunbeams (Unknown to the Unknown)
The first in a series of free digital releases on the UTTU label comes in the form of 'Sunbeams', which can be streamed and downloaded here: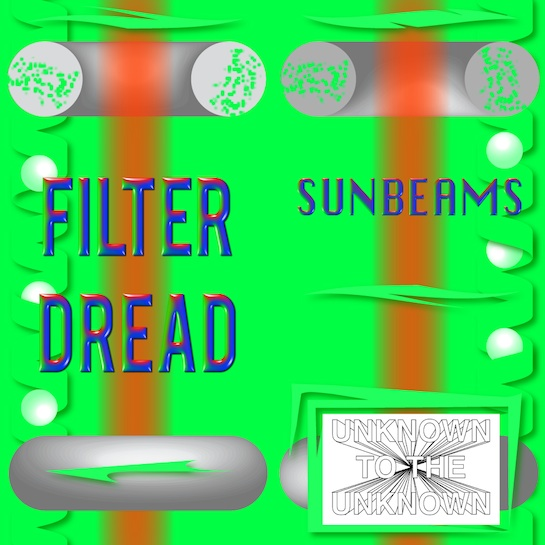 Reviews
Fact Mag
DJ Haus's rapidly growing label is going "back to the UTTU roots" with a series of free releases on YouTube.
Old heads will remember that Unknown To The Unknown started life in 2011 as a bonkers YouTube channel curated by the label boss. In the last couple of years, DJ Haus has kept up a frantic physical release schedule spread over UTTU and its sister label Hot Haus Records, but for 2015 he's going back to basics with a string of material on YouTube.
The first in a series of free digital releases is from grime and jungle mangler Filter Dread, who's obviously still feeling generous since treating us to a bumper sample pack on Christmas Day. The bubbling 'Sunbeams' can be streamed via YouTube or downloaded the old-fashioned way through Sendspace.
Subscribe to the UTTU channel to keep up to date with future freebies. The latest eclectic offerings from UTTU include a suite of messy Sheffield-style bleep from Luca Lozano and Mumdance's set of 20 locked grooves. [via JunoPlus]


Juno Plus
The label goes back to its roots with a series of free digital-only releases, starting with a track from Filter Dread.
Though Unknown To The Unknown is now something of a mini empire, with countless vinyl releases and a sub-label to its name, it originally started life in 2011 as a YouTube channel curated by DJ Haus. In a recent post on Facebook the label announced it will be returning to the YouTube format in 2015, with a series of free digital releases uploaded to the site available to download via Sendspace, as a way of "taking it back to the UTTU roots".
The first is from Filter Dread (pictured above in CGI form), whose multifaceted style is in full effect on the track "Sunbeams". Combining grime textures with classic jungle-inspired breakbeats, it's highly recommended to fans of his recent MIDI Space EP on Ramp Recordings, and can be streamed below or downloaded via Sendspace (at your own risk). UTTU promises there will be plenty more YouTube releases arriving over the year, so make sure to subscribe to the UTTU channel to stay in the loop.


https://www.youtube.com/watch?v=nkce-kTUq6g
https://www.youtube.com/watch?v=nkce-kTUq6g
https://www.youtube.com/watch?v=nkce-kTUq6g
https://www.youtube.com/watch?v=nkce-kTUq6g
BONUS EP // BONUS EP // BONUS EP
Tribal Realm EP
Unknown To The Unknown
21.8.15